[ad_1]

UEFA Nations League Final, Spain vs France: Kylian Mbappe and Paul Pogba, the two stalwarts of French football were seen exchanging some fun moments with Instagram and Tiktok celebrity, Khaby Lame. Khaby (@khaby00) had gone to Stadio Giuseppe Meazza or San Siro Stadium in Milan Italy, to watch the final of the Nations League. 
The World Champions France defeated Spain by 2-1 in the final, courtesy of two goals from Karim Benzema (66th minute) and Kylian Mbappe (80th minute). 
After the match, before returning to the tunnel of the changing room, players like Kylian Mbappe and Paul Pogba spotted Khaby in the stands. As soon as Mbappe spotted Khaby, he threw his shirt in the stands where Khaby was sitting. Immediately after that, Paul Pogba saw the IG star and then enacted Khaby's trademark move with both hands open. 
Watch the video below:
Mbappe, Pogba showed some love to Khaby Lame pic.twitter.com/v8bSHUypZ4


— Brian Manswell (@brmanso27) October 10, 2021
Khaby is a big football fan, he keeps posting videos about football. He is from Italy and during the EURO 2020, Khaby was supporting his home team in the final. In the past week, Khaby had posted a video with Paul Pogba as the France team arrived in Milan for their match.
Watch that video below: 
Pogba x Khaby Lame ????????‍♂️ pic.twitter.com/nMHXwKXsvC


— MUFC BR (@mufcbr) October 8, 2021
Nonetheless, France won the Nations League Final 2-1 after conceding first in the 64th minute of the match. Mbappe's 80th-minute winner was a little contentious as some of the Spain supporters and players thought that Mbappe was offside before scoring the goal.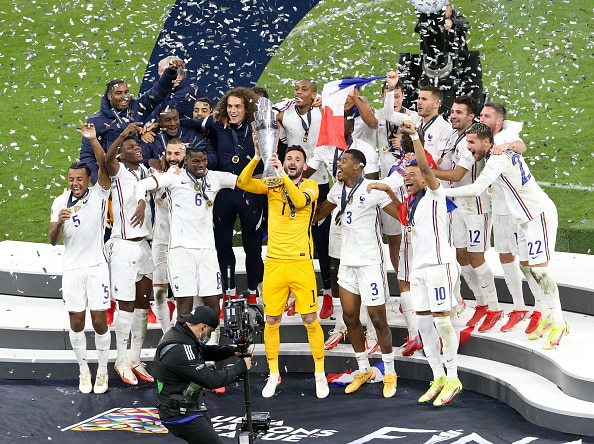 France's next venture would be to win the upcoming 2022 FIFA World Cup in Qatar. 


[ad_2]

Source link